Question: What do I do with my OLD backup data?!
You might be asking yourself, "Honestly, how many folks are really asking about this?" and the answer is (not surprisingly) LOTS. This was actually the question I asked to open up a recent webinar: "How to Migrate Legacy Backups to the Cloud with Commvault". On that webinar alone, 80 percent of the attendees were running at least one yet-to-be-decommissioned backup alongside their production data protection solution. Even worse, 35 percent were running more than one older backup!

It's a totally justifiable question, though. It's a question I would often hear from customers as they were migrating off of their legacy backup products onto Commvault, and it makes sense too! If you've been running another backup system for any period of time, you have a need to recover that data or retain it for a number of reasons, not the least of which being compliance. The answer for most has always been to put the old box in a corner and hope you never need to go look for a tape from it, which isn't really that efficient. Even virtualizing the old master/media servers, storage nodes, or whatever they happen to be called, isn't ideal. You still have a separate silo of backup where you are probably still paying some maintenance on the software and hardware, and you have no real confidence that you'll be able to find the data you need later down the line.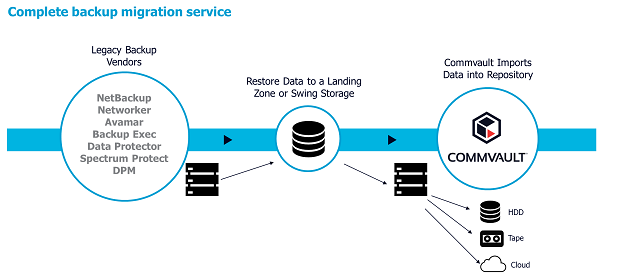 Enter Commvault's backup migration services. These services are available on-demand or as a complete service to our customers. This way, rather than having to deal with the cost (and risk) of keeping the legacy backup running, you can bring that data under Commvault management. The migration process not only preserves the retention/expiry dates, but the original client information, created/modified information and other critical meta data needed for recovery or compliance. It's not an "all-or-nothing" process either. If you have 10 years and 500TB of data on tape, but only need to migrate over a subset of that, you can selectively target only those data sets you need.
The best part of this is that you can also move that data directly to any of the 40-plus cloud storage solutions Commvault supports. No gateways, no extra hardware, just move it (deduplicated and encrypted) right into the cloud(s) of your choice. The best-best part, is this is all automated. Commvault's APIs and orchestration framework take care of the migration tasks for you.
So next time someone asks you what to do with your old backups, you know you can answer "just put it on Commvault."
Matt Tyrer, Commvault.