Salesforce data recovery – why should I care?
Salesforce's world-renowned security will protect your org's data from external malicious forces, but it will not protect you from yourself. Imagine this, a developer of a third-party customer intel app deployed code against your SF.com production system. You believed that the code had been tested, but as luck would have it, that was not the case. Upon deployment, the code corrupted a single field in SF.com. OK, one field but this field was featured on every one of your 1.3 million contact records.
Or how about a data import that goes horrendously wrong. For instance, you override all "Amount" data for all opportunities from the past three years. But when you go to run reports you find that the "Amount" field was corrupted and now you can only generate reports that cover the last six months. Try explaining this to your CFO.
Like most companies, you may find yourself without backup copies to restore the information. That your SaaS provider doesn't maintain backups that align with your RTOs is a common misconception not only with Salesforce but with other SaaS applications that have become critical to your business. So how do you solve the above possible scenarios? Well, you request the lost data files from Salesforce Data Backup Recovery Service. But this is going to cost you time; it takes around six to eight weeks to get the data restored. And it will cost $10,000. So you then apply the corrections with data loader to an environment that is never static. During the six to eight weeks employees continued to enter data and update the corrupted fields on multiple records. Now you have a real mess.
Without the service from Salesforce and without your own backup copy, you are now up SaaS creek without a paddle. Ironically, Wiktionary.org uses this phrase to explain the common expression, "We'll be up the creek if we lose those files, so we should back them up regularly."  The point is with the impending "deprecation" of the Backup Recovery Service your failsafe to restore data to Salesforce has now disappeared.
Why is Salesforce eliminating the service?
According to Salesforce, customer trust is its No. 1 priority. This is something I do not doubt at all. I have worked with Salesforce for close to 20 years and the customer is its focus. Salesforce says, "The data recovery process does not meet our high standards for customer experience due to the length of time and reliability of the process. This process takes a minimum of six to eight weeks to complete and we cannot guarantee 100 percent data recovery."
With this "paddle" gone, Salesforce suggests that you can use native data backup options as a method of backing up your data. These include: Data export service, Data loader and Report export. It also has an Accelerator for Premier Customers.

With the safety net removed, Salesforce customers must now look elsewhere to plan for business continuity and disaster recovery solutions. You can look for vendors on the SFDC AppExchange and weed through 180-plus vendors that have some sort of recovery solution for some part or parts of your Salesforce org.
Not to worry. With Commvault, recognized as the leader in backup and recovery by leading analysts, you will not be without a paddle for long. Our Salesforce.com data protection solution has you covered. In the following table you can see the breadth of functionality we provide and, in addition, the solution can be deployed in the cloud, hybrid or on-premises.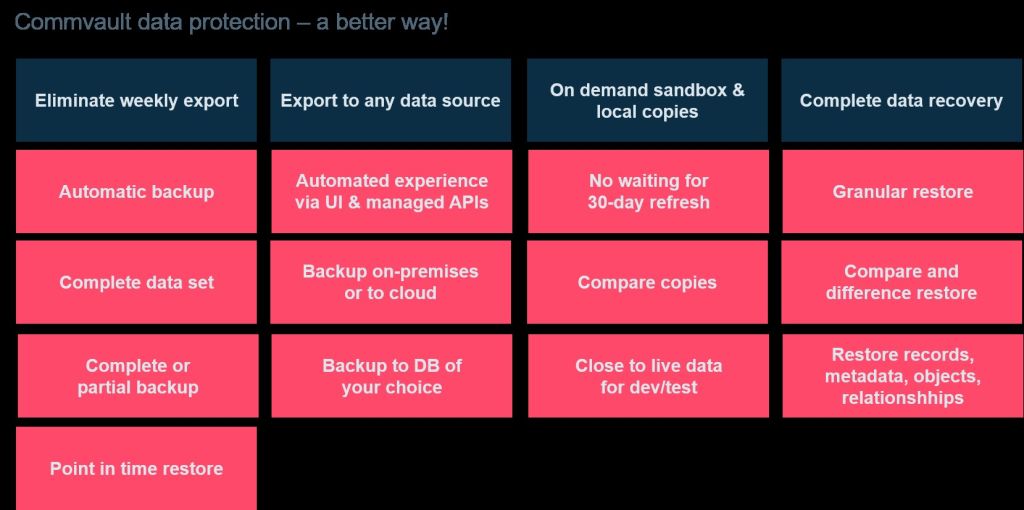 ---
The Commvault solution for protecting your critical Salesforce data backs up and recovers all the critical elements. Including:
Standard objects – Default objects used to store data. Accounts, contacts.
Custom objects – Custom objects created used to store data. Invoices.
Files – Documents, attachments, libraries.
Salesforce CRM content – Metadata, layouts, app settings, profiles.
Relationships – Links between objects. Parent and child.
Learn more about ORIIUM's Salesforce.com data protection solution.
By Bryant Bell, Senior Product Manager with Commvault.
Original article can be found HERE.